the perfect gift
handmade luxury horseshoes
the unique good luck charm for all special occasions
from our family to yours




our services
Choose Your Horseshoe
WEDDINGS
Bridesmaids, Gifts for the Bride & Groom, Maid of Honour, Wedding Guests
SPECIAL OCCASIONS
Annual Celebrations, Awards Presentation, Birth of a New Baby, Special Events
KEEPSAKES
Commemorative, Stables or House Decorations, or Send Us Your Own Horseshoe
made just for you
Gifts that are treasured for generations
At Weddinghorseshoes we pride ourselves on perfect attention to detail. Our beautifully prepared real steel horseshoes are professionally cleaned and sandblasted before a lustrous silver enamelling process provides the perfect finish. The addition of personalised engraving work in a choice of silver or polished brass, combined with your choice of plain or tartan ribbons results in a perfect wedding gift.
Every bride needs a little good luck!
Unique and personalised bridal keepsakes, iron and steel anniversary gifts and presents, created from real, genuine horseshoes.
Wedding gifts to keep forever!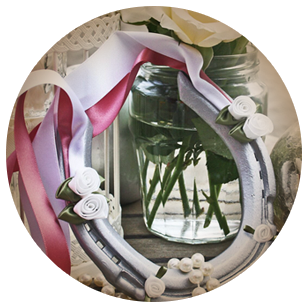 Sandblasting today - creating beautiful wedding horseshoes for brides to cherish forever. Take a look here, maybe… https://t.co/bzW1zAQbgA
- Tuesday Jun 19 - 1:12pm